Tottenham were comfortably beaten by Liverpool at Wembley on Saturday lunchtime and Jamie Carragher took an in-depth look at where Mauricio Pochettino's tactics went wrong on Monday Night Football.
Georginio Wijnaldum and Roberto Firmino scored the goals in a dominant display by Jurgen Klopp's side and they missed a host of opportunities before Erik Lamela's consolation in injury-time.
Sky Sports expert Carragher believes Spurs boss Pochettino had a clear plan to neutralise Liverpool's attacking trio of Mohamed Salah, Sadio Mane and Firmino while also taking advantage of their weaknesses out wide.
However, Tottenham's inability to retain possession left their two central defenders very exposed…
Carragher said: "It was a back four with almost three holding midfield players and two No 10's behind Harry Kane.
"Gary Neville spoke a lot in commentary about the position of the two full-backs and it was almost like Tottenham played with five defensively [the centre-backs and the three central midfielders] and five in the other half [the full-backs and the forwards].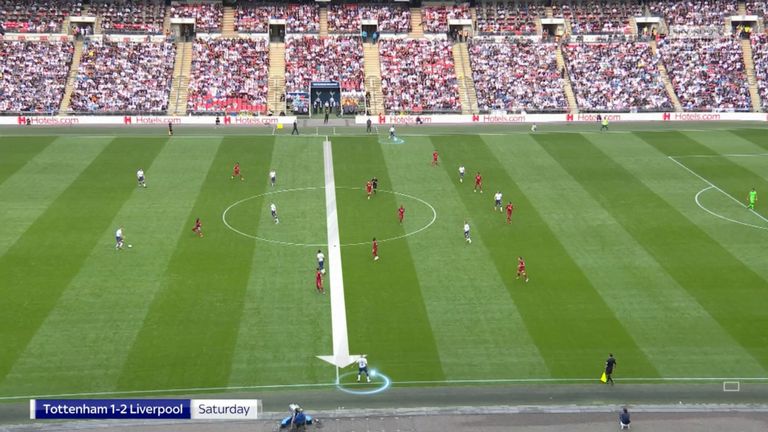 "The two full-backs were not making a mistake being so high and wide. The manager has asked them to be in that position. When you play three midfielders, normally one of them breaks or moves in behind but they didn't move all day.
"I think the idea was to deal with Liverpool's front three, who attack very narrow and defend very narrow. You never see Mo Salah going back with a full-back.
"Liverpool's front three, certainly the wide ones, always look to press the centre-backs. I think Pochettino felt the full-backs could get a lot of space and a lot of joy out wide.
"If they lost the ball and had a problem, they had five players [the central defenders and the three midfielders] to stop the counter-attacks, be close enough to look after Liverpool's front three, and maybe look after one of the midfield players bombing on.
"But they were so poor in possession in midfield it was untrue. Liverpool were not clinical enough and the game should have been dead and buried at half-time.
"The idea for Pochettino was to get the full-backs high up the pitch, but when they lost the ball they didn't win it back and stop the counter-attacks.
"I don't care which centre-backs you've got. The best in the world cannot cope covering the full width of the pitch.
"Tottenham have the two best centre-backs in the Premier League for the last three or four years, Toby Alderweireld and Jan Vertonghen, and they were all over the place."